Tandem Skydive Certificate With Photos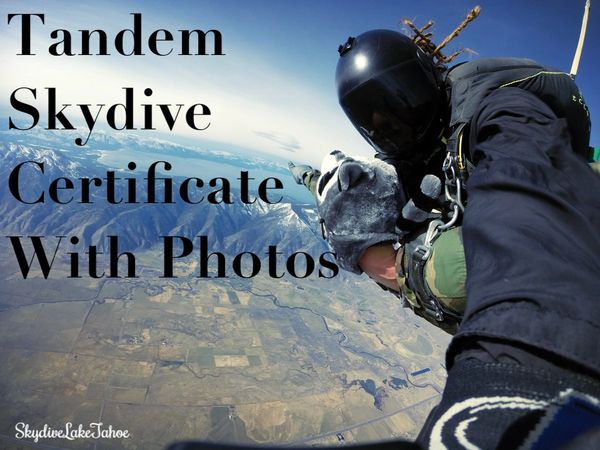 Tandem Skydive Certificate With Photos
Visit www.SkydiveLakeTahoe.com to access the full website.
Reservations are made on the full website or over the phone. 

View our Photo & Video Gallery on Facebook.

By making a purchase you agree to a set of Terms & Conditions.


Tandem Skydiving Certificate. 1 Person with Photos
 One Tandem Skydive
Comes with over 150 incredible HD photos of the event.
From departure to landing, we capture precise and professional photographs.
Here is what you can look forward to when skydiving with Skydive Lake Tahoe-
Welcoming and friendly environment.

Knowledgeable and professional employees.

Well maintained aircraft and modern parachuting equipment.

Feeling of safety and security, fully attached to a certified Tandem Instructor.
On The Way Up-
Absolute best views of Lake Tahoe and the Sierra Nevada Mountains.

Smooth flight to jump altitude in our comfortable and spacious Cessna aircraft. 

Enjoy every moment inside the airplane with amazing scenery in all directions.

Fly to heights of over 12,000ft above the ground.
The Jump!-
Experience the incredible feeling of leaping from an aircraft.

Speeds will increase to over 120mph.

Enjoy the amazing sensation of falling down through the sky.

Nearly "One Full Minute" (60 Seconds!) of exhilarating free-fall.
Parachute & Landing-

Instructor deploys the parachute at an altitude of 5,500ft above the ground.

Excitement increases as you realize the quiet and calm of floating under canopy.

Tranquil 5 minute parachute ride provides plenty of time for more sightseeing.

Instructor skillfully guides you to the ground for a touchdown in the landing area.
Before You Leave-
Celebrate the accomplishment with watching friends and family.

Enjoy your photos and video on one of our viewing stations.

Relax and indulge in the amazing feeling of accomplishment.

Professionally edited Photos and/or Video tailored to your skydive.